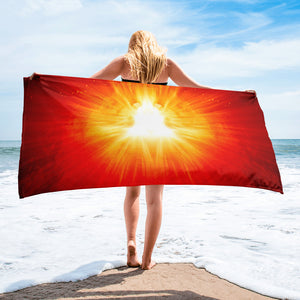 I once showed this image to a Tibetan Shaman in the Himalayas because I wanted to see what he saw. He told me it was a representation of Padmasambhava - an enlighten Buddhist master who is credited with bringing Buddhism from India to Tibet. His name translates into "Lotus Born". He had even more to say about the sacred spring waters where all of these underwater images on this site were taken. My encounter with him is something I will always treasure and it helped be realize:
The song of your heart is the truest sound you will ever hear. It is the path of love you were born for and the music of your soul. Blasting out of the center of your being is the one light of all creation. Be the song that is your Hearts highest expression. Live Your Light!
Give your bathroom a vibrant look and wrap yourself up with this super soft and cozy all-over sublimation towel.

• Available in one size: 30"x60"
• 52% cotton, 48% polyester
• Made in China. Printed in the USA
• Printed on one side only
• The non-printed side is made of terry fabric, making the towel more water-absorbent