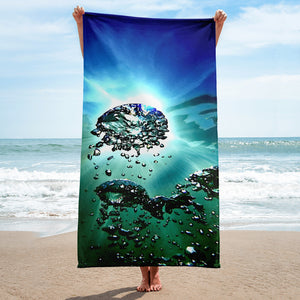 Sometimes right in the middle of things, where the light is the brightest we are asked to make a choice. This image represent that stillness of true choice that is in every moment and thus, last eternally.
This is a great towel to give your bathroom a vibrant look.  Wrap yourself up with this super soft and cozy custom printed, high vibration towel. If you like it, is how you know it was made just for you!
Available in one size: 30" x 60"
52% cotton, 48% polyester
Made in China. Printed in the USA
Printed on one side only
The non-printed side is made of terry fabric, making the towel more water-absorbent.