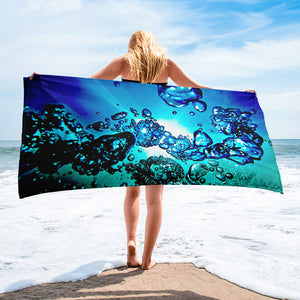 Sunlight, water and breath are the elements in this image. Air rises to the surface and on the way creates beauty. One of my personal favorites.
Water and Light offer a rich canvas of expression that the natural world uses to entertain us with beauty. This unique design is vibrant and joyful. Traits of Knowing is an image taken  underwater in the sacred springs of Austin, Texas. Your body is mostly made of water and light. Because of this, there are countless rainbows inside you. Be who you are. Live Your Light!
This is a great towel to give your bathroom a vibrant look.  Wrap yourself up with this super soft and cozy custom printed, high vibration towel.
Available in one size: 30" x 60"
52% cotton, 48% polyester
Made in China. Printed in the USA
Printed on one side only
The non-printed side is made of terry fabric, making the towel more water-absorbent.